You are here: Home » Dmitry Karshtedt
Dmitry Karshtedt
I
was born in Moscow, Russia in 1977 and immigrated to the United States in 1990. After a yearlong stint at Benjamin Franklin Middle School, I entered 9th grade at Lowell High in San Francisco. I graduated from Lowell in 1995 and moved on to Harvard University, where I received my A.B. in chemistry in 1999. Currently, I am pursuing a Ph.D. in chemistry at the University of California, Berkeley.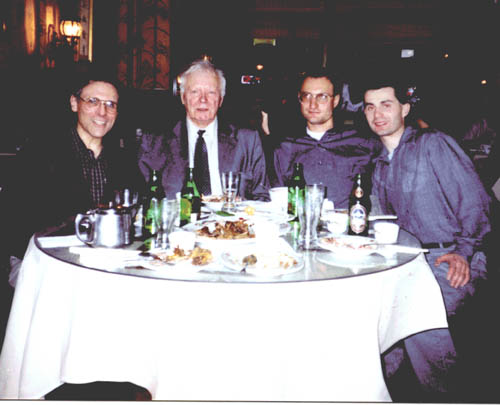 Dinner with Russian-speaking chemistry professors at Berkeley. I'm the one on the far right.

I
have broad academic interests outside of the hard sciences, and enjoy reading scholarly works on subjects such as intellectual history, literary theory, and education. To unwind, I enjoy playing ping-pong and lifting weights. Occasionally, I pick up my flute (especially if there is a piano player willing to make it a duet) and play chess. I am also a big baseball fan. I follow the San Francisco Giants religiously and drop everything once Barry Bonds steps up to the plate.
Back to Poetry Lovers' Page.

You are here: Home » Dmitry Karshtedt
Copyright © 1995-2020 poetryloverspage.com. All rights reserved.